Nestled in the eastern Iberian mountain range, Cantavieja has a Mediterranean climate tempered by its altitude. The terrain consists of rocky cliffs, plains and deep canyons.
Its varied topographical features include raised mesas with tilted strata or flat-topped mountains, (Muela Mochén), narrow river valleys (River Cantavieja), and damp clay hillsides (Tarayuela and Cuarto Pelado).
Its location in the Mediterranean bioclimatic region, specifically in the Maestrazgo area of the Castellano-Maestrazgo-Manchega region makes it a popular destination for nature lovers.
A large part of Cantavieja's municipal district falls within SCIs (Site of Community Importance) and SPAs (Special Protection Area for birds). The SCIs and SPAs found in the municipality are:
SCI Muelas y Estrechos del Río Guadalope.
SCI Rambla de las Truchas.
SCI Maestrazgo y Sierra de Gúdar.
SPA Río Guadalope-Maestrazgo
From Cantavieja there are plenty of short walks where you can find the local fauna and flora in all its glory.
El Rebollar and the Natural spring of Faldrija Footpath (PR-69)
This footpath takes the visitor to the picnic area of El Rebollar and the natural spring of Faldrija, a recreational area in the middle of the countryside. El Rebollar is a transition zone where the forests of Corsican pines (Pinus nigra) meet the uppemost limit of oodlands of holm oaks (Quercus ilex) and Portuguese oaks (Quercus faginea). In this enclave these species battle it out to colonise the space, influenced by the altitude, the orientation of the slope, and the underlying rock. It is an area of great environmental value frequented by species such as wild boar (Sus scrofa) and roe deer (Capreolus capreolus); you might even come across the tracks of a badger (Meles meles) or a stone marten (Martes foina).
Circular route to the River Cantavieja (GR-8, PR-70)
This circular route takes in the River Cantavieja, where you can admire the riverside woods of poplars (Populus nigra), willows (Salix alba), ash (Fraxinus angustifolia), elms (Ulmus minor) and crack willow (Salix fragilis) and see birds such as the golden oriole (Oriolus oriolus) that nest and raise their young there.
Along the river you might see signs of otters (Lutra lutra), or watch grey wagtails (Motacilla cinerea) and white wagtails (Motacilla alba) playing by the water. Sightings of dippers (Cinclus cinclus) have also been recorded.
Keeping watch from the rocky cliffs is the majestic species, the ibex or mountain goat (Capra pyrenaica hispánica).
Flying overhead you can see Griffon vulture (Gyps fulvus), golden eagle (Aquila chrysaetos), Egyptian vulture (Neophron percnopterus), peregrine falcon (Falco peregrinus), common buzzard (Buteo buteo), booted eagle (Hieraaetus pennatus), European short-toed snake eagle (Circaetus gallicus) or perhaps a disorientated kestrel (Falco tinnunculus).
The Tarayuela Cross Footpath (GR-8)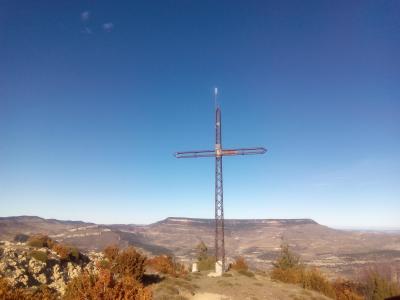 Excellent viewpoint at 1738 metres above sea level from which the visitor can wonder at the ravines and flat-topped mountains of the area surrounding Cantavieja, dominated by Scots pine (Pinus sylvestris), gorse (Ulex parviflorus; Genista scorpius) and boxwood (Buxus sempervirens).
Other birds to be seen in this area include the short-toed snake eagle
(Circaetus gallicus)
, crow (Corvus corone), great tit (Parus major), blue tit (Cyanistes caeruleus), common chaffinch (Fringilla coelebs) or the magnificent hoopoe (Upupa epops).